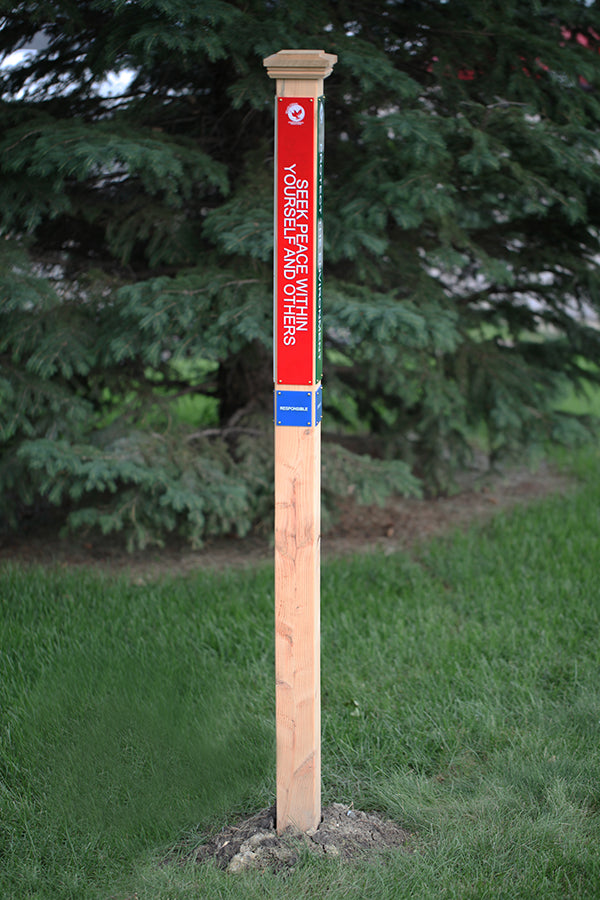 HOMARTIFACTS is proud to be selected as the manufacturer of Peace Action Poles by World Citizen.  World Citizen is a non-profit organization dedicated to peace throughout the world.  By purchasing a World Citizen Peace Action Pole, you are not only supporting an important global organization, but you can turn your back yard or garden space into an international Peace Site.    Visit www.peacesites.org to learn more about World Citizen.
Peace Action Poles are available in completely assembled 8 foot and 4 foot cedar 4 x 4 posts with decorative cap, or you can order the plate kit only (you buy the posts and do the assembly yourself! - screws included for mounting).
The four large panels display the Five Peace Actions of World Citizen:
Seek Peach Within Yourself and Others
Reach Out in Service
Protect the Environment
Respect Diversity
The four small blue panels (when read together) are the fifth Peace Action: "Be a Responsible Citizen of the World"
10% of your purchase is donated back to World Citizen to support its mission to empower communities to educate for a just and peaceful world.
FREE shipping to your home or business!