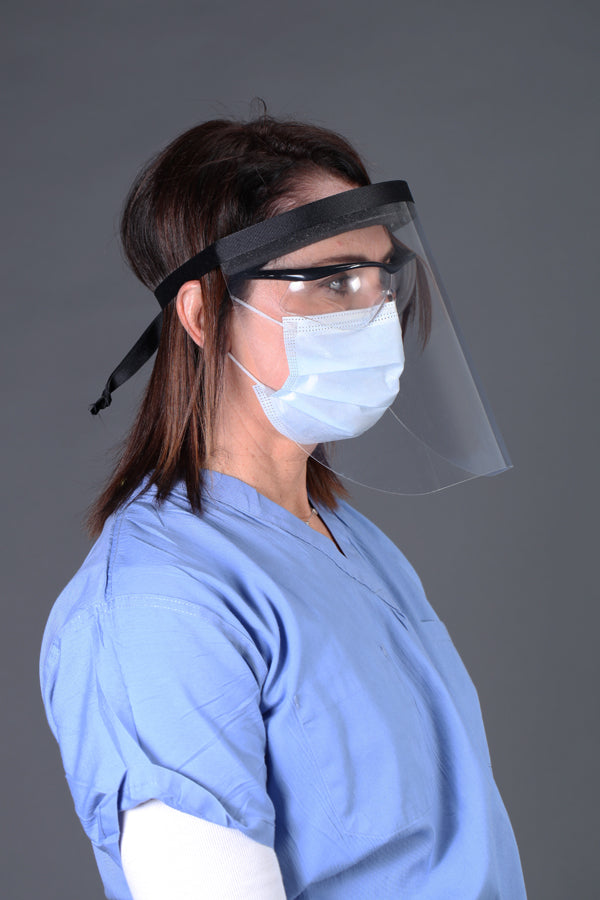 The lightweight Front Line Face Shield features a 9 x 13 polyester film shield, for full face coverage and droplet protection (sneezed, coughing, etc..).  It can be easily cleaned with isopropyl alcohol and reused multiple times.  This  mask is perfect for those on the front lines with direct patient care (doctors, nurses, hospital staff, dentists) or those with heavy interaction with customers (retailers, barbers, salons, delivery drivers, etc..).
Custom fit!   With a comfortable foam brow piece, and adjustable nylon ribbon headband, this mask will fit every size head perfectly.   Just place over your head, pull the adjustable sawtooth grommet to your desired level of tightness, and you can wear the shield comfortably for hours!
SPECS
• lightweight, 13" x 9" film shield
• Type D, high clarity
• antifog/antistatic
• Meets FDA 21 CEFR 177.1630 standard
• comfortable foam headband
• adjustable ribbon for perfect fit
• protects against airborne droplets from sneezing, coughing, etc...
• not for welding, impact protection, etc...